Event Details
Sharpening the Tools for Your HR Toolbox
Date:
May 18, 2017, 12:30pm – 5:00pm
Organizer:
Location:

Southern Kentucky Community & Technical College (SKYCTC)
175 Davis Drive
Franklin, KY 42134
Off I-65 - Exit 6

Price:

Single - $30 (member) or $50 (non-member) Group Rates Also Available

Event Type:
iCal link
MidSouth SHRM proudly presents the upcoming workshop which is available for anyone to attend. Three (3) HRCI and SHRM Credit Hours available. The workshop starts at 1:00 p.m. (with registration beginning at 12:30 pm).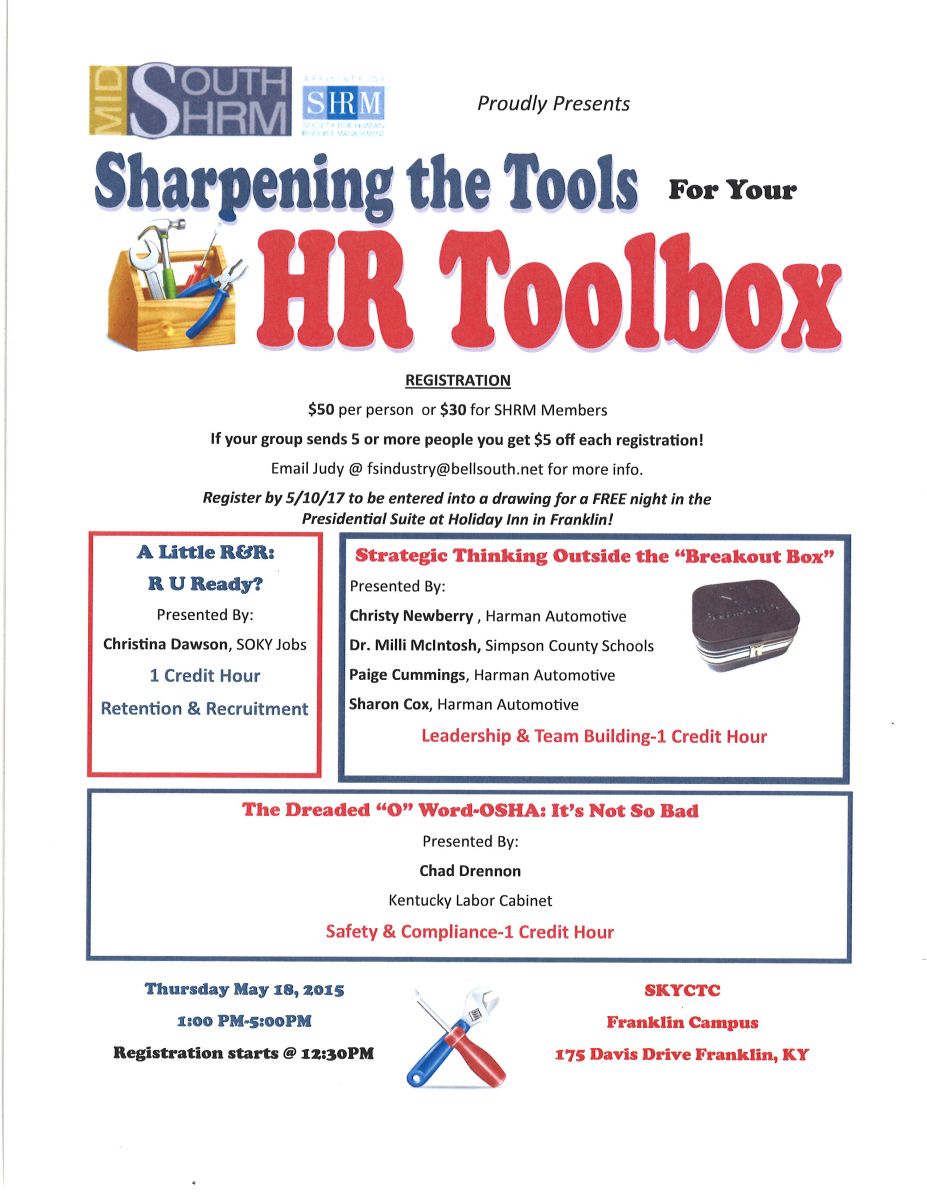 This workshop includes three training sessions: 1) A Little R&R: R U Ready? - Presented by Chrstina Dawson, SOKY Jobs - 1 Credit Hour - Retention & Recruitment; 2) Strategic Thinking Outside the "Breakout Box" - Presented by Dr. Milli McIntosh with Simpson County Schools and Christy Newberry, Paige Cummings and Sharon Cox from Harman - 1 Credit Hour - Leadership & Team Building; and 3) The Dreaded "O" Word - OSHA: It's Not So Bad - Presented by Chad Drennon of Kentuckly Labor Cabinet - 1 Credit Hour - Safety & Compliance.
Registration Costs:
Single - $30 for SHRM Member or $50 for Non-Member
Group Rate Available for 5 or More from Same Group - $25 each for SHRM Member or $45 each for Non-Member.
Register by 5/10/2017 to be entered into a drawing for a FREE night in the Presidential Suite at Holiday Inn in Franklin!
You may register below via our Pay-Pal link. You can click below to get a copy of the registration form which you can then mail, along with your check to MidSouth SHRM, PO Box 876, Franklin, KY 42135 (Make checks payable to MidSouth SHRM). You may also print out the registration form and bring it with you and pay by cash or check on the day of the event (registration begins at 12:30 p.m.)
Click here to download the Workshop Registration Form
For more information, email Judy at fsindustry@bellsouth.net.
The Pay Pal Link is found below: