Member Spotlight - May 2014 - Dr. J McCaslin
As a new addition to our website, we would like to spotlight a Mid South SHRM member each month. We are proud to spotlight Dr. J McCaslin this month.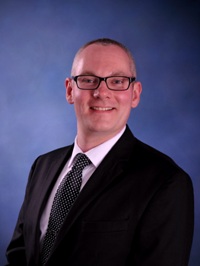 Dr. J is originally from Princeton, KY but now lives in Bowling Green. He commutes to Franklin daily to work at Southcentral Kentucky Community & Technical College (SKYCTC) where he is the Vice President of Outreach and Community Development. Dr. J holds a B.A. and M.A. from Western Kentucky University and Ph.D. from the University of Louisville. He also has a Graduate Certificate in Organizational Communication.
Dr. J is married to Sara Beth (Basham) McCaslin, who originally hails from Chalybeate, Kentucky. They met at WKU in the late nineties. This September they will be married for 15 years. They have a nephew (Ben, age 12) and two nieces (Katie, age 9; and Beth, age 8). He and Sara are Disney fanatics. This September they will visit Walt Disney World for the 35th time! They have also been to Disneyland five times, on four Disney Cruises, and have travelled to Hawaii to stay at Disney's Aulani resort.
Other than being a member of Mid-South SHRM, Dr. J is also the Board Chair for Hope Harbor, the Board Chair for the Franklin-Simpson Chamber of Commerce, as well as the President for the National Association of Branch Campus Administrators.
If you would like to nominate yourself or someone for the Member Spotlight please email sara.bruner@wwt-bg.com