Mid South SHRM Apparel is Here!!
We have Mid South SHRM t-shirts starting at $11.00 and polos starting at $18! Get your order in by September 1st to reserve at this price. Shirts can be ordered throughout the year, however, they may not qualify for the bulk pricing. Order yours today!!
Click here here for the order form!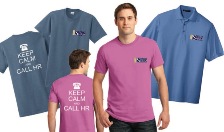 The tee shirts are available in Azalea Pink and Heather Blue and have the Mid South SHRM logo screenprinted on the front and on the back they say "Keep Calm and Call HR".
The polos are available in more than 30 colors and have the Mid South SHRM logo embroidered on the front.
Show your Mid South SHRM pride by purchasing a shirt!!